<! - Start of Left Column - > Raster Background Data for PC-GPS

Geotiffed DRG and DOQQ images, ready to use in PC-GPS





If you have a question or technical issue that is not addressed by this section, please contact us at support@cmtinc.com <! - End of Left Column - >
<! - Start of Main Column - > CMT Custom Image CDs


USGS 7.5' quadrangles are now available in digital format that can be used by PC-GPS. These DRGs (Digital Raster Graphics) are available for the entire United States. See example below.

Also available are aerial photos (DOQQs - Digital Orthophoto Quarter Quads). Approximately 50% of the U.S. is covered; with more being added each month. Four of these cover the same area as one DRG. See Example below.

Let us make a custom CD-ROM for you with the DRG's and DOQQs you need. The DRGs and DOQQs, are in PC-GPS .MAP format so you can just use File/Open in PC-GPS to display the DRG or DOQQ. You can then copy your GPS data right on top of the image.

With this data you can:

Display your GPS/GIS data on top of USGS quadrangles and aerial photos.

"heads-up" digitize on the image using your mouse. Create new points, lines and areas by tracing them on the image.

connect your GPS unit to your notebook computer or pen-based computer along with PC-GPS and watch your position on the DRG/DOQQ as you move.
<! - End of Main Column - >
<! - Start of Pics - >

DRG Image (to scale)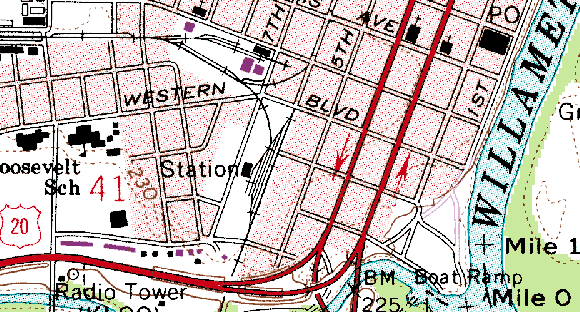 DOQQ Image (to scale)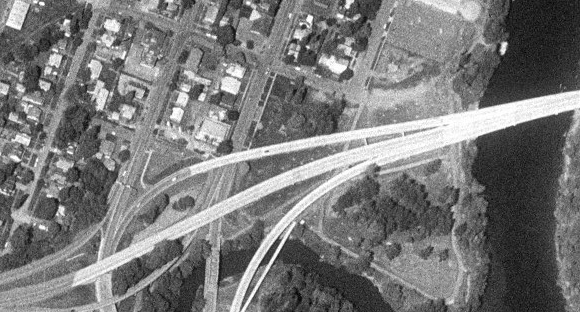 <! - End of Pics - >
Call one of our Sales Representatives for a quote on a custom CD today!
Just let us know the names of the 7.5' quadrangles you need.
1st 7.5' quadrangle on CDROM.......
$30.00
Each additional 7.5' quadrangle on the same CD-ROM.......
(Maximum of 60 7.5' quadrangles on each CD-ROM)
$3.00
1st Digital Orthophoto Quarter Quad on CD-ROM.......
$40.00
Each additional DOQQ on the same CD-ROM.......
(Maximum of 10 B/W DOQQs on each CD-ROM)
$10.00
(pricing only applies to b/w images)
<! - End of Pricing - >

Online DRG Search
Use CMT's fast image search engine to customize your DRG CD online. Please send your order to us by mail or FAX.