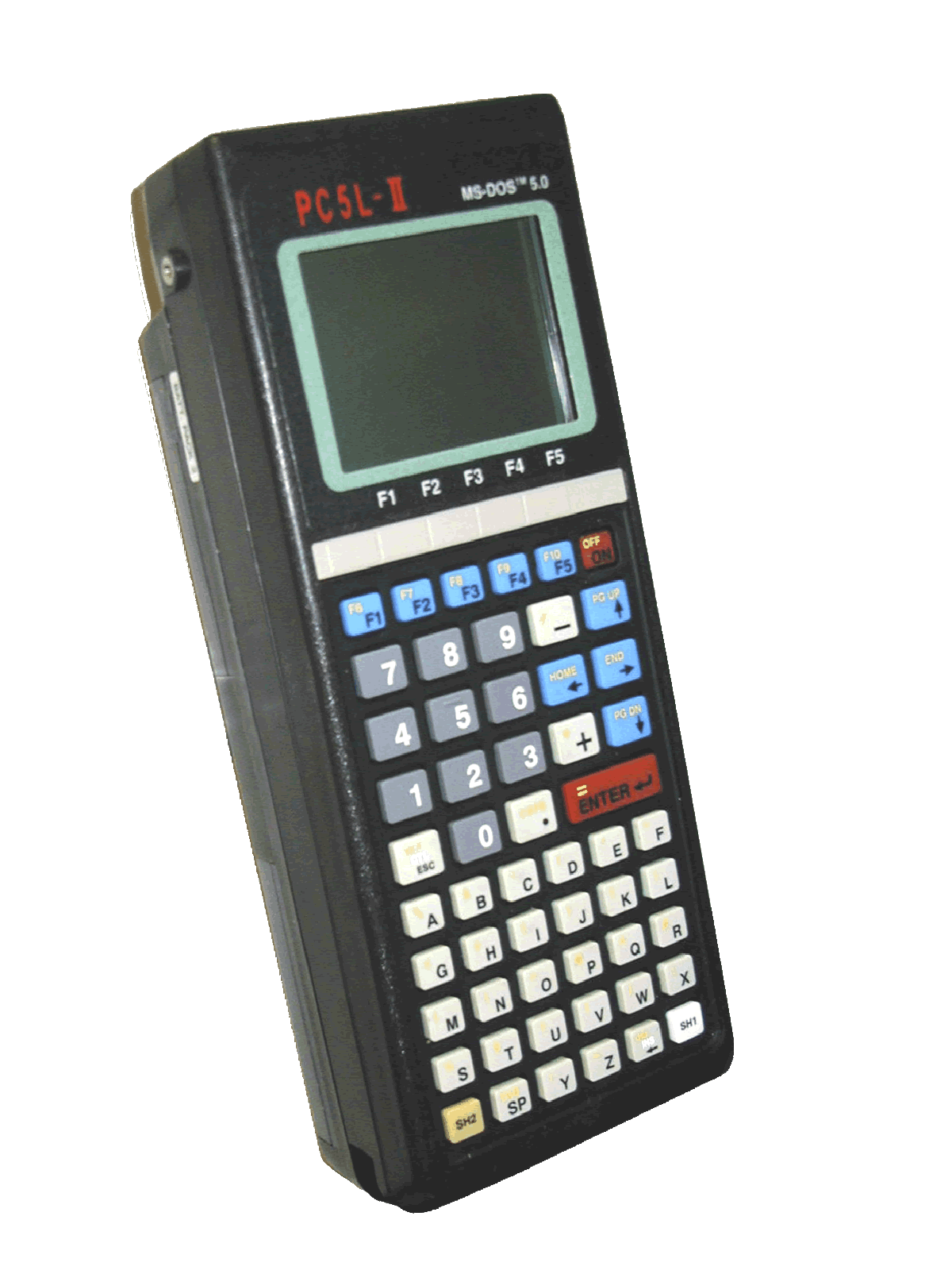 PC5L-II Computer
The Rugged Hand-Held Computer Featuring True MS-DOS&reg 5.0

$1,850.00

CMT's PC5L-II hand-held computer is a tough, rugged PC in the palm of your hand. With MS-DOS&reg 5.0 operating system, you can develop and execute programs just as you do on your desktop PC. The PC5L-II also features 100% Intel CPU compatibility, dual PC compatible RS232 ports, and PCMCIA support.

The PC5L-II's environmental design is proven for over 7 years in the most demanding conditions such as the rugged forests and mountains of the Pacific Northwest, the cold winters of Canada, and the heat of the Saudi Arabian desert. The PC5L-II is designed to be:
fully immersable and operable in water
dropped from up to 5 feet
dust and oil-proof
resistant to many chemicals
MS-DOS 5.0&reg and Full PC Compatibility
CMT's PC5L-II hand-held computer is a PC in the palm of your hand. With industry-standard MS-DOS&reg 5.0 operating system, you can develop and execute programs just as you do on your desktop PC. Compare the PC5L-II's compatibility to your current hand-held. Does it have:
MS-DOS&reg 5.0
8250 Compatible RS-232 ports
100% Intel CPU Compatibility
PCMCIA Support
Also: 100% support of Microsoft Mouse; Microsoft Advanced Power Management; Lotus, Intel, Microsoft/Expanded Memory Specification (LIM/EMS).
The compatibility of the PC5L-II eliminates time-consuming and constraining proprietary languages. Download dBASE IV&reg, Clipper&reg, COBOL, C, PASCAL, and other PC software directly to the PC5L-II, and it executes just as it does on your desktop PC.
Superb Communication Capabilities
The PC5L-II features:
Two 8250-compatible, PC-AT standard RS-232 ports.

Built-in KERMIT and XMODEM file transfer protocols.

High speed communications with virtually any platform.

RS-232 port compatibility with barcode readers, optical meter probes, PLCs, survey total stations, and other devices.

Optional RS-422/485 ports.
PC5L-II Display
The PC5L-II's large, rugged display features:
High-contrast, supertwist, film-type display
16 line by 25 character CGA compatible LCD
Internal backlight and adjustable contrast to ensure viewing in even the darkest conditions
Multi-font mode supporting 15 font sizes.
Advanced Power Management and Speed
Power Management
The PC5L-II uses Microsoft's Advanced Power Management&reg (APM) scheme to extend battery life. APM's functions include:
Puts the PC5L-II's components to sleep when not in use, awakening when needed.
Extends usage time to as much as 2-3 days for typical applications.
Built-in on-demand power meter and low battery alert.
If extended outdoor power consumption is a vital issue (more than 3 days), consider CMT's MC5 hand-held computer which utilizes the industry's best power management design and runs up to two weeks between recharges.
PC5-L-II Speed
No more long waits for your database search, file transfer or complex calculation.
The 16-bit AT bus of the PC5L-II completes a 16 bit memory instruction in only 2 CPU clock cycles.
The PC5L-II is as much as 5 times faster than other 16-bit hand-held computers.
PC5L-II Memory and PCMCIA Support
Reliable, Flexible Data Storage
The PC5L-II comes standard with one "Flash" EEPROM that you can use to store your program files, providing you with the maximum data integrity available in a hand-held computer. Additional Flash EEPROM slot available on the mother board for installing an optional second Flash EEPROM.
EEPROMs do not depend on battery power, preventing program loss in the event of power depletion.
Frees up available RAM for maximum data storage.
Program and update your Flash EEPROMs (both to erase and to write data) with CMT's BURN-FS utility and your PC5L-II. No other tools are required.

PC5L-II Memory Pricing Options
PCMCIA Support
The PC5L-II supports industry-standard PCMCIA memory cards and boards through its environmentally sealed PCMCIA slot. Features include:
Support for up to 32 Megabytes of memory address space.
Factory installed 4 Megabyte and 8 Megabyte optional RAMDISK boards are available from CMT
PCMCIA boards are bolted to the system to protect against loss of data due to vibrations or heavy drops
Operating System:
MS-DOS 5.0® with 16-bit bus throughout
System Memory:
2 Megabytes battery-backed RAM
RAM Disk:
Optional 4 or 8 Megabyte RAM Disk available
Environmental:
Waterproof, dustproof, shock-resistant
Operating Temp.: -10°C to 54&degC

Display:
CGA compatible, high-contrast, supertwist LCD with graphics capabilities, 16 lines x 25 characters (multi-font mode supports up to 15 different character sizes), internal backlight
Communications:
2 9-pin RS-232 serial ports (PC-AT Pin-out). Baud rate configurable from 110 to 38400
Clocks & Timers:
Real-time clock for date and time stamping. Programmable alarms
Keyboard:
55-key, alphanumeric, tactile keyboard with large numeric pad and 10 function keys (5 shifted)
Size:
9.4" x 4.1" x 2.5"
Weight:
2.2 lbs
Power Supply:
Provides two battery ports for rechargeable NiMH battery packs with DC jack for recharging. One battery pack and one DC adapter/charger supplied standard with PC5L-II. Additional battery pack and charger are optional. Also available as an optional item is the ACC-SMC-G3-M smart charger, which will first discharge the unit then charge it up.
Estimated NiMH Battery Life:
| | |
| --- | --- |
| Fully running: | 9 hours |
| Typical use: | 2-3 days |
| Shelf life: | 2 weeks |